So here's my week...
Finished
:
Flirting to Win
by Natalie Anderson -Its fun fluff, with very little thought needed to be entertained.
Elemental
by Brigid Kemmerer - I love Michael? I really really do. My favorite Merrick. If I ignore the covers which why
?
Storm
by Brigid Kemmerer - oh my gosh this book! :snuggles Michael:
Fearless
by Brigid Kemmerer - I'm not a big Hunter fan. But when I love a series I read
everything
.
Savage Winter
by Rachel Van Dyken - better then her romances, but still kind of not my thing. Which is sad they always have interesting premises
Cry Wolf volume 1 GN - In the first hour it was in my hands. No joke. Love.
Soul Eater Not! volume 1 - I don't think this is going to take the serious turn the parent series, Soul Eater, took...
Started Reading
:
Spark
by Brigid Kemmerer - does the third book REALLY not come out til next year?
Kieli volume 7 - oh god I kind of know what happens and its tearing me up inside
Review:
Won or Bought:
(links lead to goodreads unless otherwise noted)
Bought from Amazon
:
Earl and Fairy vol 3 - oh this series...oh Lydia...
Kieli vol 7: As the Deep Ravine's Wind Howls by Yukako Kabei - sooo close to the end ;-;
Fushigi Yugi Genbu Kaiden vol 10 - FINALLY. Been waiting FOREVER.
Sailor Moon vol 7 - wow time seems to have flown with these new releases!
Full Blooded by Amanda Carlson - I missed this at Book Expo so I'm glad to have a copy now!
Free from Amazon
:
Try to Beat This Level of Cool:
First: Andrea K
Höst, who is possibly one of my heroes of writing (she's Brandon Sanderson level of love), sent me an early copy of her next book And All the Stars. Its a departure from her other works (the Touchstone Books, Champion of the Rose, the Medair duology) in that its more contemporary, set in a not so distant future of Australia and not-quite-apocalyptic (I mean the world is still there just...well...yeah).
I LOVED IT. Its not due until October, so expect the review around there. SO COOL.
Second: I somehow found myself chosen to be an Avon Addict. Apparently reading a lot of romance does that XD Anyhow, for the next 6 months (the term of my Addiction), I'll be receiving a box with books, swag and ARC's (as well as digital stuff). My first package came in! Check it: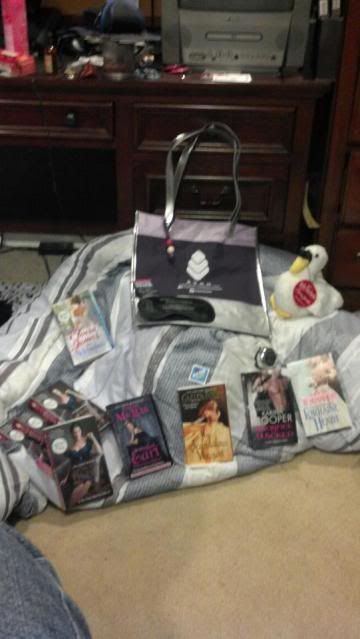 What I received:
4 copies of The Way to a Duke's Heart by Caroline Linden
Sacrifice of the Wicked by Karina Cooper
Lord of Temptation by Lorraine Heath
My Scandalous Viscount by Galen Foley
The Ugly Duchess by Eloisa James
an arc of One Good Earl Deserves a Lover by Sarah MacLean (!!!)
Avon Romance tote
An Ugly Duchess swan plushie (cool swag!)
Avon Addicts Pin
Wendy Corsi Staub bookmark and eyemask
Pretty cool huh? I'm going to share the wealth! First
three
people to email me (at Lexie.Cenni(@)gmail(.)com) will receive a copy of
The Way to a Duke's Heart
! There's a caveat--In a couple week's I'm going to email you a few questions about the book and I'm going to post your responses here on the blog. If you don't want to participate don't email me!